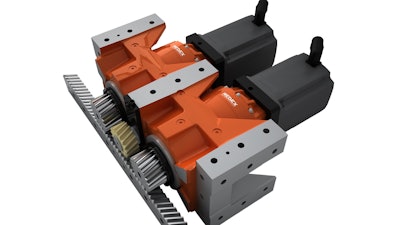 At IMTS 2022, Andantex (Booth 236016) will unveil its latest generation of high-precision planetary reducers, built around its new EVO 1 technology.
Developed with machine tool performance in mind, EVO 1 is a new approach to driving machine tool axes. The EVO 1 mechanical gearing system approaches the performance of a linear motor at the price of a rack and pinion linear axis.
Features include:
High stiffness
Zero backlash
Ultra-minimal transmission error.
Vibration-free motion.
An optimum surface finish for the machined part.
At the show, Andantex will showcase its first range of redesigned planetary reducers featuring EVO 1 technology — the SRP, KRP, KRPX and DRP Series — which are all available in existing sizes.
The new design also features:
Small diameter integral output pinion
Huge preloaded tapered roller output bearings helping to create maximum combined (radial, torsional and axial) stiffness
Patented ZERO-BACKLASH DualDRIVE and TwinDRIVE solutions.
For more information, visit www.andantex.com.