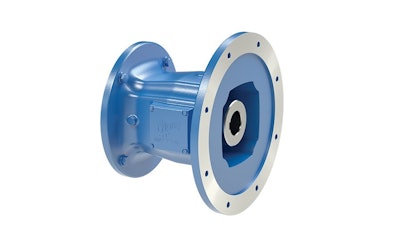 Newly improved NEMA and IEC input adapters from NORD (Waunakee, WI) offer improved mechanical and thermal performance, giving users more flexibility in designing drive systems and allowing for a broader range of application and environment-specific concepts through extended options such as integrated backstops and speed sensors. The redesigned input adapters are available NEMA sizes 250TC – 400TC and from IEC sizes 160 – 315.
These innovative NEMA/IEC input adapters showcase improved technical capabilities – 3600rpm max input speed, increased bearing life and serviceability. They also come equipped with FKM seals as a standard and bearings that will last for a minimum of 25,000 hours, resulting in trouble-free operation for longer periods before requiring maintenance.
NORD's redesigned NEMA and IEC adapters are made of cast-iron and consist of a single casting that eliminates the need for adapter plates. This manufacturing process reduces the total number of parts that need to be stocked, resulting in a lower sell price and providing better overall value. The improved housing also results in a significant reduction in heat generation, nearly -20 K less temperature rise compared to the legacy version. The adapters come standard with a fail-safe ROTEX coupling and are designed for easy integration of backstops and speed sensors to meet application needs.
www.nord.com, 888-314-6673