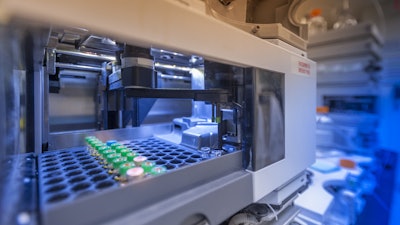 Stock Drive Products/Sterling Instrument (SDP/SI; Hicksville, NY) is launching a series of Integrated Motors to simplify motion system design.Replacing multiple components with a compact all-in-one motor and electronics package, Integrated Motors simplify motion system design while providing many advantages.
SDP/SI products are available with a wide range of standard features for easy integration intended for industrial automation applications. The Integrated Motor Controllers include state-of-the-art brushless servo motors with 4096 lines encoder and CANOpen network protocols in an intelligent plug-and-play package. The high-performance 60 mm NR5-LD60 series incorporates motor, encoder, and drive with smooth and quiet sinusoidal commutation with Field Oriented Control (Vector Control) into a compact unit. The NEMA 23 NH5-DM series is an economical turn-key solution to speed and torque analog
motion control. With the elimination of multiple components, connectors, cabling, and labor a significant cost savings is realized.
To cover any system requirements SDP/SI offers DC Motors, AGV Gear Motors and a wide range of AGV accessories: such as optical flow sensor, magnetic track following sensor, and controller network communication options.
www.sdp-si.com, 516-328-3300