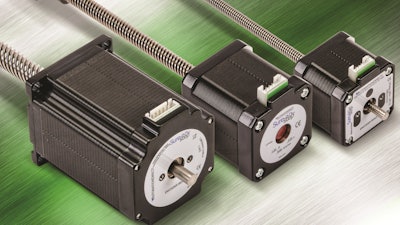 AutomationDirect (Cumming, GA) has added stepper motor linear actuators to its SureStep line of stepper motion control products. These linear actuators are NEMA 17 or NEMA 23 frame stepper motors with a stainless-steel lead-screw extension of the rotor. Specifically:
In conjunction with the provided screw nut, this actuator translates motor torque into linear thrust. They can provide up to 193 lbs. of thrust, or speeds up to 18 in/sec.

Eight standard "leads" (travel per rev) are offered, with screw lengths of 6, 9, or 12 inches, and all are stocked products ready for immediate delivery.

Long life, no-maintenance triangular screw nuts are included. Optional round screw nuts, and extension cables in 6-, 10-, and 20-foot lengths complete the offering.
www.automationdirect.com/stepper-motor-linear-actuators; 800-633-0405