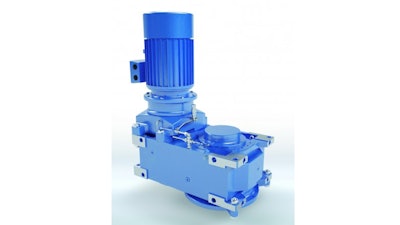 MAXXDRIVE industrial gear units from Nord Gear Corp (Waunakee, WI) are an excellent choice for use in large mixers and NORD has continued innovating in this field with its new SAFOMI (Seal-less Adapter for Mixers) adapter. This adapter features a flange with an integrated oil expansion tank, increasing operational reliability and requiring less routine maintenance over the lifecycle of the gear unit. MAXXDRIVE units offer high output torques from 132,000 – 2,250,000 lb-in. and operate reliably under demanding conditions. Specifically:
NORD MAXXDRIVE industrial gear units are FEM-optimized and have a compact design that enables efficient operation under very high external loads.

Like NORD's other gear unit offerings, MAXXDRIVE units have extensive modularity, providing many options for tailored solutions without the need for costly custom component design.

When equipped with a SAFOMI-IEC/NEMA adapter, MAXXDRIVE industrial gear units combine the functions of standard IEC/NEMA adapters with an oil expansion tank in a single, integrated component. SAFOMI is available for parallel gear units in sizes 7 to 11, covering speed ratios from 5.54:1 – 400:1.

The combination of a MAXXDRIVE industrial gear unit, SAFOMI-IEC/NEMA adapter, and drive motor is an ideal choice for mixer and agitator applications to reduce wear on internal gearing, parts, and attached components.
www.nord.com; 888-314-6673