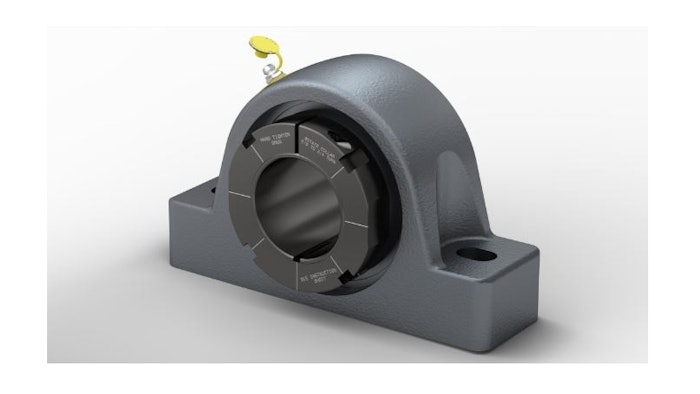 Regal Beloit Corporation (Beloit, WI) announces the release of the new Klamploc adapter lock for Sealmaster mounted unitized spherical roller bearings (USRB). The Klamploc adapter lock was designed to simplify the installation process while improving shaft lock reliability. It accomplishes these goals with two unique design features:
The first feature includes key installation steps that are written on the lock collar. Regal always recommends fully reading the installation instructions prior to attempting an installation. Often, after bearings are removed from their boxes prior to installation, the boxes and the installation sheets get discarded by users. Or, the sheets might be reviewed ahead of time, but the installation specifications do not get memorized or are unavailable when needed at a job site. Because the Klamploc adapter has installation steps clearly marked on its collar, the installer can simply read the specs from the bearing itself.
The second key design feature is a split collar with a cap screw to close the split. With the Klamploc adapter, there are neither parts to remove and then install nor parts to bend on the bearing. Other market options require one or more parts to be removed before installation. This not only introduces additional non-value-added steps, but it also creates a situation where these parts, often small, can be lost.
www.regalbeloit.com/USRB-Klamploc