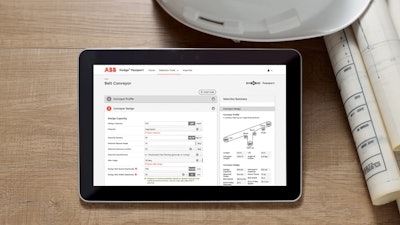 ABB (Fort Smith, AR) enables customers to design conveyor pulley assemblies and belt conveyors for the first time with its web-based Dodge Passport design tool. These user-friendly programs allow customers to create and order complete application-based solutions for bulk material handling applications typically found in mining, cement, aggregate and grain industries. Specifically:
Passport's new conveyor pulley assembly designer allows users to select, quote and order conveyor pulley assemblies complete with shafting and mounted bearings.
Real-time pricing and availability enables customers to make cost-effective selections of readily available components.
After selections are complete, Passport offers add-to-order capability, allowing customers to seamlessly convert selections into orders via the PT Place e-commerce platform.
For the new belt conveyor design program, Passport uses application-specific design parameters such as capacity, material characteristics and conveyor geometry to accurately size gear reducers, motors, conveyor pulleys, shafting and mounted bearings.
Passport also delivers a comprehensive summary that includes component details, supporting technical performance data and indexes selections for future reference.
https://dodgepassport.abb.com/; 479-646-4711