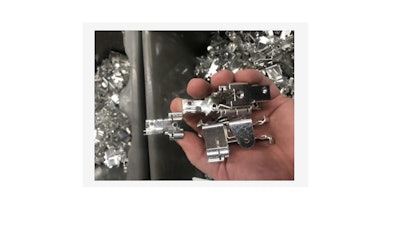 TECHNIBRITE SN 200 tin plating system has been introduced by Asterion, LLC (Indianapolis, IN). Delivering exceptional solderability, the system is ideally suited for both barrel and rack applications to impart lustrous, bright tin deposits. Unlike conventional acid tin processes, TECHNIBRITE SN 200 requires only two proprietary chemical processes. Easy to use and analyze, system components include:
TECHNIBRITE SN 200 Make Up, which provides the proper concentration of wetter, coupler, ductilizers, and low current density brightener.

Stannous Tin (used in make-up), providing the desired metal concentration.

TECHNIBRITE SN 200 Maintenance, the brightener component that can be added on an ampere hour basis.

High purity tin anodes to maintain the concentration of tin in the plating bath.

Sulfuric Acid, providing conductivity and allowing the tin anodes to dissolve.
www.asteriontc.com; 800-428-0719