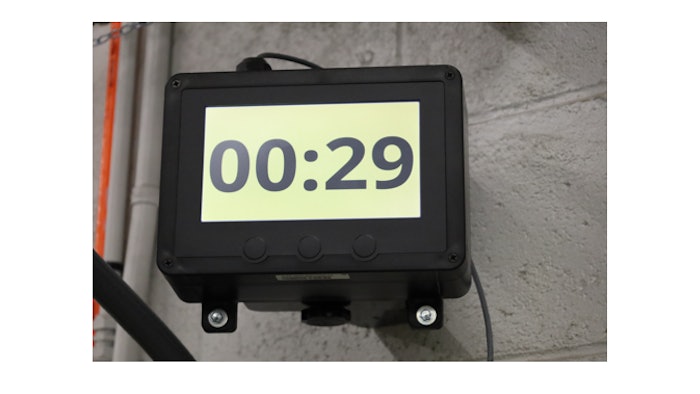 Rite-Hite (Milwaukee, WI) introduced the Dok-Lok Dock Timer, a new visual management tool for enhanced loading dock productivity. Unlike other material handling products on the market, the Dock Timer lets logistics personnel take control of each dock position by monitoring the total duration of loading activities.
Either counting up or down, with time displayed in minutes and hours (00:00 time format) at any interval, the dock timer automatically begins when the Dok-Lok vehicle restraint safely secures a trailer to the facility. When integrated with an optional trailer presence sensor, which helps confirm trailer presence without the need to step outside on the dangerous drive approach, the timer begins counting once a trailer is detected at the dock position. The dock timer stops counting when the vehicle restraint disengages the trailer, signifying the load is complete.
Facilities customize the set shipping window for each dock position, helping to accommodate various trailer types and load size needs. Minimal training is required as the dock timer utilizes numbers and colored backgrounds on the GUI for ease of adoption. The intuitive control interface indicates with colored backgrounds crucial loading time milestones, such as: timer not running, timer running, shipping window within 30 minutes, shipping window exceeded and load complete.
Helping improve loading efficiencies, the dock timer allows facilities to increase trailer throughput to support additional capacity.
www.RiteHite.com, 800-456-0600