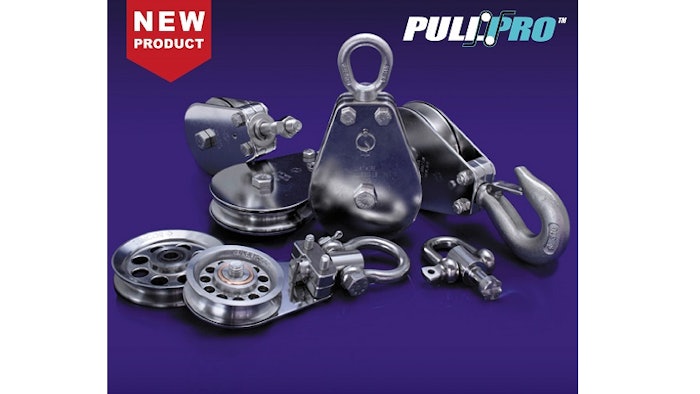 Suncor Stainless (Plymouth, MA) has announced the launch of PULLPRO, a new line of premium stainless steel blocks and sheaves designed to address an industry need for versatile, robust and long lasting block assemblies to meet today's demanding applications.
PULLPRO blocks and sheaves are available for fibrous or wire rope and are comprised of only the highest quality raw materials. The blocks are available with five different attachment types, allowing the user to choose an assembly that meets the needs of their application. Attachment types include a forged swivel eye, forged D shackle, forged bow shackle, forged swivel hook and a machined bolt head.
PULLPRO blocks feature a unique three-way head configuration that allows a single block to offer incredible versatility and multiple usages through fixed 0°, fixed 90° and free swivel modes, all in one block.
PULLPRO sheaves are comprised of high quality grade 316 stainless steel and incorporate a weight optimized design with recessed sides and lightening holes. They feature either stainless steel ball bearing or bronze bushing type hub styles. Stainless steel spacers are included with most of the bronze bushing style sheaves. The inclusion of spacers adds a new level of versatility by allowing a standard sheave to adapt to various shaft sizes.
The working load limits (WLL) of these assemblies were certified through extensive in-house laboratory testing. The WLL represents a 5:1 design factor (DF), and when used appropriately, the blocks and sheaves meet ASME B30.26.
www.suncorstainless.com, 508-732-9191