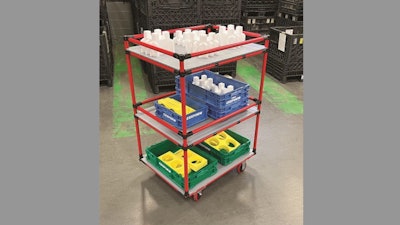 Creform Corporation (Greer, SC) has designed and produced a kitting cart that is used in the assembly department of an aerospace assembly manufacturer. The cart provides an efficient way to organize, kit and load transport in-process materials from the logistics area to the assembly floor.
The Creform cart is designed with three-levels. Each shelf features a solid plastic surface and was factored into the cart's design. The surface is lightweight, but the strong plastic corrugate provides enough capacity and is strong enough for the light aerospace parts and further helps keep the overall weight of the cart down for easy movement. The top two levels of the cart feature a Creform pipe lip around the perimeter to ensure that product stays on the shelves during transit. Aerospace parts are fragile and expensive. Loss or damage must be prevented as in many cases these parts are hard to replace. Additionally:
The cart features four, 5 in. diameter casters with urethane wheels for easy positioning, stability and safe movement.

Two of the casters are fixed for directional control while two others feature brakes that can be engaged for secure positioning.

Wheels lend themselves to easily moving the structure for transport, housekeeping and/or repositioning.

The cart has overall dimensions of 27" W x 34" L x 52" T and is designed to hold up to 375 pounds.
www.creform.com, 800-839-8823