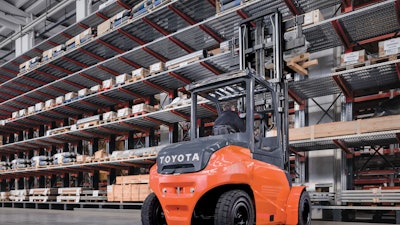 Toyota Material Handling (Columbus, IN) is introducing two new versatile solutions designed to handle any indoor or outdoor applications with reliable, powerful performance. The all new Toyota 48V and 80V Electric Pneumatic Forklifts are powered by Toyota-designed AC motors and built with operators in mind to elevate operational efficiency and productivity. These forklifts offer maintenance-free operation, programmable performance, and a power-select function for customization based on application and driver preference. Specifically:
With a maximum capacity range from 3,000 to 4,000 lbs. (48V) and 4,000 to 17,500 lbs. (80V), they are designed to handle a wide range of tasks, both indoors and out.

The new Toyota Electric Pneumatic Forklifts feature several productivity-enhancing innovations including electric power steering, regenerative braking and standard speed control, helping to extend battery life and reduce the frequency of battery changes.

These premier features are complemented with the inclusion of Toyota-designed wet disc brakes that deliver smooth, quiet, and efficient performance in both indoor and outdoor applications and require little to no maintenance or replacement during the life of the forklift.

The simple driver interface and exceptional visibility, combined with Toyota's proprietary System of Active Stability (SAS) technology and advanced ergonomic features lend the new Toyota Electric Pneumatic Forklifts superior handling capabilities and industry-leading operational safeguards.