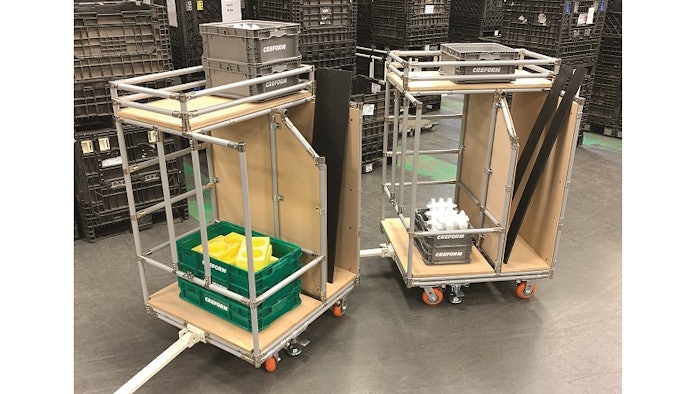 Creform Corporation (Greer, SC) has designed and produced new towed carts specifically designed for a window manufacturer. Creform and this repeat customer collaborated on the cart's design to address material handling efficiency and protection of the subassemblies and supplies needed for the kitting cart. In addition, the cart is designed to hold a variety of small production parts. Specifically:
Each individual cart features two compartments and a top shelf. Creform 28 mm plastic-coated pipe provides the necessary support and structural rigidity for the three levels. The compartments can be used to hold packaging supplies, panels, subassemblies, or boxes of parts.

The open design of the cart makes all shelves visible which enhances visual inventory management for easy item picking while heavy duty plywood shelves and dividers provide safe product handling and long life.

The cart shown has overall dimensions of 38" L x 32" W X 60" T and has a load capacity of up to 500 lb., but dimensions and load capacities are flexible with the Creform system. 

The cart comes with four large diameter swivel casters—two fixed and two swivel—with 5 in. wheels for easy rolling and positioning.

A separate floor lock is included to secure that the cart is kept in place when being loaded/unloaded.

Each cart features a hitch for regular towing through the manufacturing plant behind a manned tugger but hitches it could also be used for AGV delivery. In this application, generally four Creform carts can be towed in a train.
www.creform.com, 800-839-8823