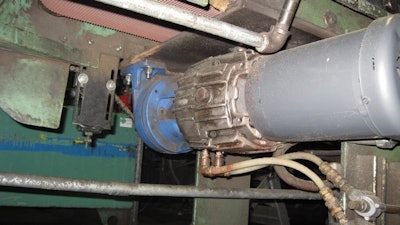 Force Control Industries (Fairfield, OH) presents the Posidyne size 1.5 clutch/brake, offering reliability and performance for smaller, fractional to 3 HP drives. The smaller size brings oil shear durability to a new level of performance and convenience ideal for conveyers, indexing conveyors, packaging machines, food processing applications, extruder cut-offs and more.
In a compact, lightweight, double C-Face mounted package, the Posidyne 1.5 clutch/brake features a multiple disc design that produces high torque from a small package, boosting accuracy, cycle rates (up to 300 cycles per minute), and lifetime (20,000,000 – 40,000,000 cycles).
Posidyne clutch/brakes feature oil shear technology that allows rapid and precise stopping, starting, reversing, speed change and positioning – all without adjustment and virtually no maintenance. Ideal for applications with frequent start/stop cycles, these unique motion control devices allow higher cycle rates (as high as 300 cycles per minute), to increase production rates with lower downtime. Faster production rates coupled with significantly longer service life than traditional (dry) clutch/brakes (5 to 10 times longer in many cases) yields increased uptime, productivity and ROI. No adjustment, virtually no maintenance, multi-year service life, minimal parts inventory, reduced parts and replacement ordering cost, adds up to higher production at less cost.
www.forcecontrol.com, 513-868-0900