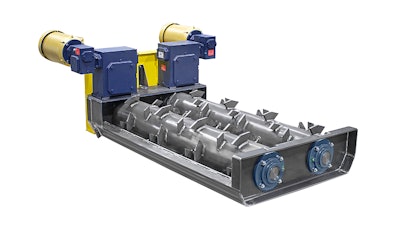 PRAB Inc. (Kalamazoo, MI) has introduced the Bundle Breaker, a conveyor enhancement that preconditions stubborn metal scrap bundles for improved material transfer, processing and safety.
During metal scrap processing, conveyance systems using augers or steel belts frequently fail to consistently move bushy bundles of metal scrap because the augers and steel belts are unable to grab hold of the stringy wads. This limitation causes the bundles to bounce around the in-feed hopper until an operator manually breaks them up, or forces the bundle up the conveyor. This practice is both inefficient and unsafe.
The PRAB Bundle Breaker installs in a conveyor's in-feed hopper, where dual rotating cylinders agitate the material, shredding stringy wads of chips, turnings, and bundles apart to allow for effective processing in downstream equipment. The PRAB Bundle Breaker may be added to an existing conveyor or incorporated into a new PRAB metal scrap processing system.
www.prab.com, 800-968-7722