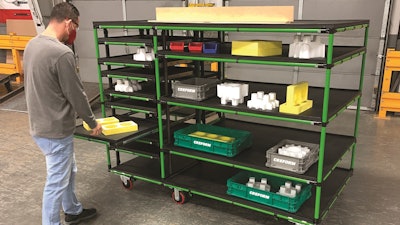 Creform Corporation (Greer, SC) has designed and built a kitting cart for an aircraft customer that puts a premium on protecting high-value parts that are associated with the industry.
The customer focuses on inspection and repair of aircrafts and their engines. Since many of these parts cannot be quickly or economically replaced, they need to be handled carefully. The Creform cart keeps all the parts necessary to complete a task together on a single structure that can be positioned at the point-of-use which help keep their skilled mechanics on task. The organized layout and dedicated compartments of the cart ensure damage free handling and supports easy visual inventory management.
The five-level kitting shelf cart features a solid surface and a lip around the perimeter of each shelf to ensure that the product stays on the shelf during transit. It features 12 drawers on one end with eight extending out one side and four on the other. Drawers make it easier to retrieve parts in a compact area since no extra space is needed above them for loading and unloading.
The cart features six large 6 in. diameter casters for easy, stable and safe movement. Wheels easily move the structure during transport but also are ideal for housekeeping and/or repositioning, while its open design makes it easy for the user to visually survey the parts stored and to quickly retrieve the desired parts. The cart is also ideal for temporary storage of all the parts needed for a job.
www.creform.com, 800-839-8823