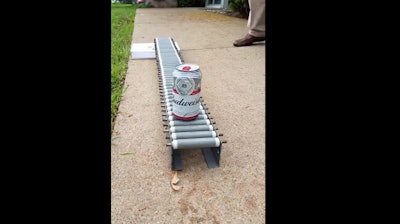 Mini roller conveyors from Roll-a-way Conveyors (Waukegan, IL) feature 3/4" micro rollers available in stainless, aluminum or steel material. 7/8" PVC roller is also available. The conveyors can be produced in custom lengths from 1' to 10', and variable widths from 3" to 18". A USDA-approved, all stainless version is 100% stainless with the exception of the bearing housing which is white plastic with stainless ball bearings. Other specifications of these conveyors include:
Spring loaded stainless axles for total washdown.

Roller capacities from 10 to 45 lbs per roller.

Stands available with adjustable or fixed height.
www.roll-away.com, 847-336-5033