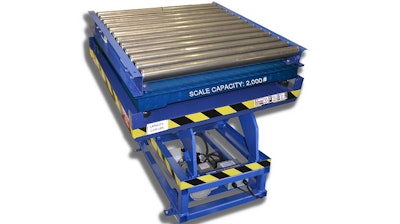 Verti-Lift (Louisville, KY) presents versatile Scissor Lift Tables with integrated digital scales and conveyor. Integrating the height adjustment of a scissor lift with digital weighing and conveying functions was the optimal solution for this packaging line filling station. With lifting capacities of 2,000 – 6,000 lbs., this system is ideal for a wide range of packaging and assembly line filling applications. Benefits include the following:
Manual turntables can be added for increased operator ergonomics and product positioning.
A variety of conveyor tops are available to suit particular project parameters. The company works closely with distributors and system integrators to design, build, and integrate their material handling equipment into new or existing facilities and production lines.
All Verti-Lift products feature easily accessible internal power units, heavy duty cylinders, hand or foot controls, heavy duty tubular frames, heavy duty hydraulic cylinders and lifetime lubricated bearings to ensure a long service life with no maintenance.
Optional accessories which can be added to suit specific requirements include accordion skirts, oversized platforms, platforms with beveled edges, pit mounted, portability package, PLC controlled, foot pedal control, high cycle and external power units.
www.verti-lift.com; 502-361-0180