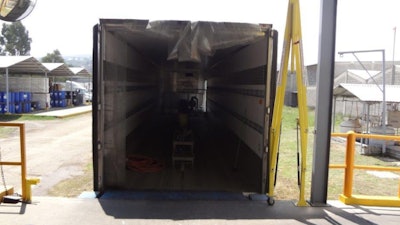 Mezzanine Safeti-Gates, Inc. (Essex, MA) has announced it has designed new dock safety gate models that provide fall protection for employees working on loading docks. Celebrating 35 years in business this year, Mezzanine Safeti-Gates has designed dual-gate safety systems used in thousands of manufacturing and material handling facilities throughout the world. It's latest, the Dock safety gate, safeguards loading dock operations that consists of a tractor trailer backing up to an elevated section of the facility so material can be loaded and unloaded from the trailer. When the trailer is in place, the safety gate is open and elevated dock area remains safe. Features include the following:
To open, the Dock safety gate rolls across the floor and compacts into the open position. A hydraulic assist mechanism allows for easy, ergonomic operation. Once the truck drives away, the ledge at the end of the elevated loading dock is safeguarded with a barrier that is closed.
The compact design of the Dock safety gate takes up a minimum amount of width in the dock, and can fit in locations with limited height.
The Dock gate model can also be configured to automatically close and lock into place as truck drives away, forming a barrier for employees working on the dock as well as a feature that prevents the gate from opening if a truck is not present. The locking mechanism is activated when the truck is in place at the dock, and released as the truck drives away, automatically closing the gate in a slow, controlled manner.
The Dock-Lift safety gate models meet OSHA and ANSI codes for fall protection, and can be designed to fit any width. It can be painted in any color or supplied in all stainless steel construction.
www.mezzgate.com; 978-768-3000