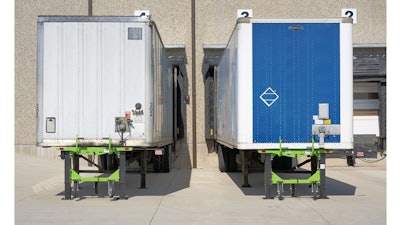 Trailer landing gear is getting a new best friend – the TS-5000 Trailer Stabilizer by Rite-Hite (Milwaukee, WI). The new stabilizing design, with a wide top plate, twin vertical supports and dual base plates, will decrease the risk of landing gear collapse when the unit is properly positioned. According to Rite-Hite, the Trailer Stabilizer has been designed to help prevent accidents that can happen when loading or unloading spotted trailers at the loading dock. Heavy loads in front of the landing gear, uneven loads, and faulty landing gear, can all cause the trailer nose to drop or roll. Benefits include the following:
The static load capacity of the Trailer Stabilizer is 70 tons (140,000 lbs.), which is more than three times the combined maximum weight allowed for a forklift and load today.
The Trailer Stabilizer comes with an extra wide top plate (12 inches by 66 inches) and covers up to 65% of a trailer's width.
The two base plates are 10 inches by 16 inches. Three 13-inch tires and ergonomic positioning handles allow the Trailer Stabilizer to be moved into position easily.
An optional communication flag alerts workers and truck drivers that the unit is properly positioned.
The unit extends up to 56 inches and retracts down to 40 inches meaning it can service nearly all trailer configurations on the road.
www.ritehite.com; 800-456-0600