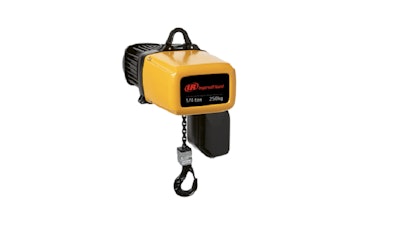 Ingersoll Rand (Davidson, NC) introduces the ELK Series Electric Chain Hoist with unique, modular features that make it easy to maintain, thus reducing the time required for maintenance and employee training. According to the company, the hoist's modern design makes it so lightweight and accessible, it can often be serviced while still mounted. When it's time for service, the hoist's external motor is easy to remove and minimizes disassembly time. Features include:
A self-contained gearbox, requiring minimal maintenance since it includes permanent lubrication. It also has fewer parts and less complexity.
Capacities ranging from one-eighth ton to one ton, with capacities up to five tons available later in 2018.
Durability and reliability. It can handle a high volume of loads in accordance to the H4 standard. The aluminum die cast housing of the ELK Hoist stands up to harsh manufacturing environments, so the hoist can be used for indoor and outdoor applications. It is dust tight, water-jet resistant and has built-in drain housing which makes it suitable for outdoor use where sand or other particles are airborne.
Whether lifting an automotive component onto an assembly line or a mold in a foundry, the hoist supports applications in general industry and manufacturing, oil and gas, heavy equipment manufacturing and wind generation.