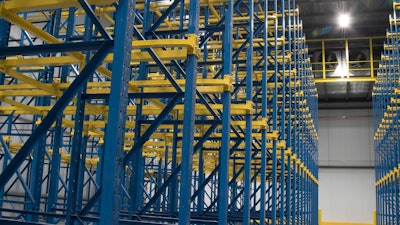 Steel King Industries, Inc. (Stevens Point, WI) announces the availability of its Drive-In Rack Systems. Requiring fewer aisles and providing better cube utilization than selective racks, drive-in and drive-thru racking allows users to store up to 75% more pallets than with selective racking. Forklifts drive directly into the rack, allowing storage of two or more pallets deep. Features include:
Flared drive-in support rails, helping forklift drivers enter the pallet rack by guiding the pallet into the bay. A Drive-In pallet rack system uses the same entry and exit point for each storage bay, providing last in, first out (LIFO) access. A Drive-Thru pallet rack system is loaded on one side and unloaded from the other for first in, first out flow (FIFO).
Unlimited storage depth, ideal for high-traffic and cooler/freezer installations.
An optional offset leg design for easier handling of pallets.
A welded frame construction, which delivers high rigidity and strength, while other optional features, like protective railings and seismic-safe designs, deliver even greater safety and stability in demanding applications.
Because they are often used in high turnover areas and operated in close proximity to forklift traffic, drive-in and drive-thru racks are subject to greater wear and tear than other rack structures. Steel King's drive-in rack system is engineered and manufactured to better stand up to this wear.
www.steelking.com; 800-826-0203