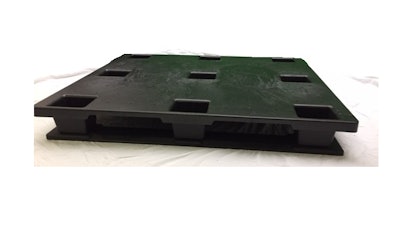 CTC Plastics (Dayton, OH) has announced the expansion of its line of reusable plastic pallets made from 100% recycled plastic. The company has been manufacturing nestable plastic pallets for over two decades and is excited for the addition of stackable pallets to their product line. Specifically:
CTC's "XTreme Stack-R" is a standard 48" x 40" lightweight pallet weighing approximately 22 pounds with assembled runners. It is manufactured from a customized blend of 100% recycled plastic allowing for more durability and better safety.
CTC'S one-way export pallet provides a low-cost shipping alternative to wood, making them popular for international shipments. The heavy duty re-usable pallet is designed for durability and provides a long service life allowing a perfect fit for industries such as grocery, retail, automotive, industrial, agricultural, export and many other industries.

The new stackable pallet is lightweight and easy to handle. It does not have nails, splinters or broken boards to risk employee injury. CTC Pallets are resistant to pest infestation mold and mildew as well as being exempt from EU and IPPC-ISPM 15 regulations.
Also contributing to its high demand is the strong one-piece design, easy forklift access and nine footed configuration.
www.ctcplastics.com; 937-228-2880