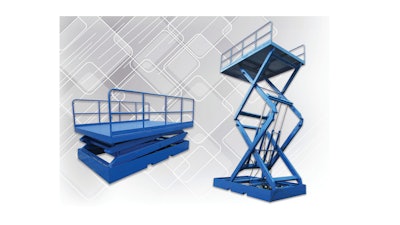 Air Technical Industries (ATI; Mentor, OH) announces the development of a new, extra large double scissor lift platform with a 10,000 lb capacity. It lifts from 48 in lowered height, 210 in vertical lift and maximum raised height of 258 in. Specific features include the following:
The scissor mechanism is manufactured from heavy duty rectangular tubing for sturdy, smooth lifting, and robust side-to-side stability, with 3:1 structural safety factor.
Lifting is actuated by four hydraulic cylinders with precision built cylinder body and smooth inner walls equipped with durable urethane seals. The 2 in OD cylinder shaft is made of high carbon tough steel.

The shafts are chrome plated for smooth operation and to prevent corrosion.
The non-skid deck is available with optional railings on all sides with a gate on each end or two-sided with safety chains. The deck size is 102 in wide by 168 in long with flexible platform sizes and lifting heights available. A telescoping deck extension feature is also available to provide added reach.
The unit shown is stationary for permanent installation. Optional mobile units are available wheel mounted, towable or also self-propelled walkie or rider type, as well as self-contained drive with remote joystick controls.
www.airtechnical.com; 888-857-6265