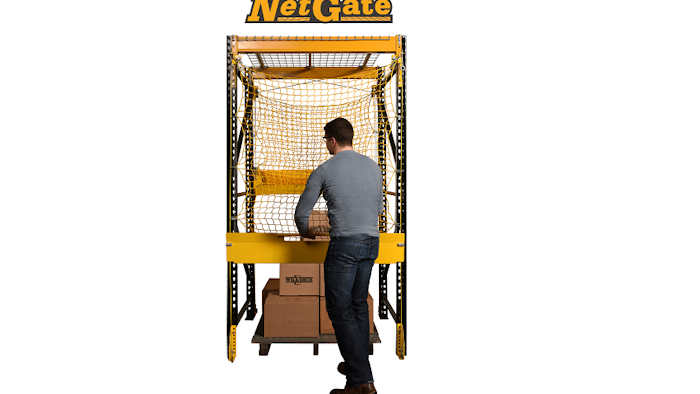 Wildeck, Inc. (Waukesha, WI) has announced its new NetGate Pick Module Safety Gate which will transform open rack loading zones into protected, safe access areas by providing full height fall protection within the pallet zone. According to Wildeck, the NetGate utilizes an integrated cable/pulley system and is easy to install into new or existing rack structures (rack not included). When one side of the gate is lifted, the other closes, providing full height fall protection near the elevated ledge at all times. It is most effective when installed onto the rack uprights of your elevated rack loading area. Additional benefits include the following:
Easy installation, with no drilling required – bolts onto existing holes in rack uprights.
Trackless, cable/pulley system for operational longevity.
Footprint issues are solved with minimal additional weight.
Knocked-down packaging and lightweight design offer cost-effective shipping.
The ability to accept tall pallet loads and carts that other access gate designs cannot accept.

OSHA and IBC compliant.
www.wildeck.com; 800-325-6939