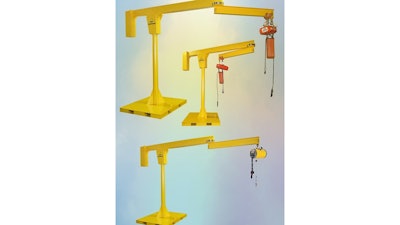 Air Technical Industries (ATI; Mentor, OH) announces the development of a new Portable Jib Crane with Articulating Forearm, 360° rotation and telescopic mast. The main benefit is portability, which enables the jib crane to be used anywhere, anytime without permanent installation. The unit also provides on-the-spot handling, and it can operate in harmony with big and bulky overhead cranes. Additional features include:
The 6 ft long articulating forearm that rotates 360°, providing 100% coverage within the work area.

The 10 ft main beam also rotates 360° for a total work area of 16 ft radius.
An optional load balancer making the load weightless. It is an ideal ergonomic tool to help lift and place any component with precise positioning for assembly.
Suitability for many industrial applications such as: machine loading, lifting, transferring, stacking, packing, holding parts for inspection, assembly, maintenance, etc.
The Portable Jib Crane Articularm is available in three versions, including a stationary, permanent floor mounted arm; a portable, self-supporting counterweight jib crane with 4-way fork pockets and a combination unit with unique telescopic mast.
www.airtechnical.com; 888-857-6265