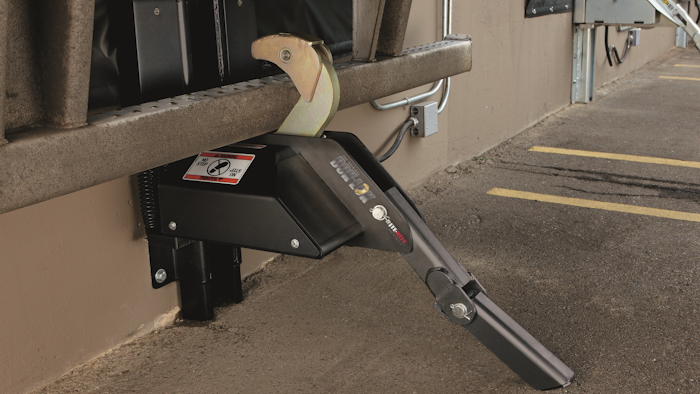 Rite-Hite (Milwaukee, WI) has introduced the Dok-Lok SHR-5000, a new restraint that uses a patented "shadow hook" design to secure traditional trailers, as well as intermodal container chassis and trailers with rear-impact guard obstructions. According to Rite-Hite, the universal design of the Dok-Lok SHR-5000 is intended to secure the widest number of trailer configurations and sizes, including intermodal chassis. The Dok-Lok SHR-5000 incorporates a shadow hook that provides an additional layer of safety when dealing with rear-impact guard obstructions. When the Dok-Lok SHR-5000 is activated, the hook attempts to wrap around the rear-impact guard. If the hook comes in contact with a rear-impact guard obstruction, the shadow hook pivots to secure the trailer in place. If the trailer moves, the shadow hook locks in the safety stop, which helps prevent a wide variety of trailer separation accidents. In addition, the Dok-Lok SHR-5000:
Is a physical theft deterrent and can interface directly with security systems to help prevent trailer theft.

 

Is engineered to withstand the harsh conditions of a loading dock environment, with a solid steel construction that can withstand repeated contact with trailers backing in and out of the loading dock area.
Features a corrosion-resistant finish and an IP-66 rated motor to prevent water and dust infiltration.
Comes standard with the Rite-Vu Light Communication System, which provides clear, constant communication of restraint status to the truck driver, forklift operator and loading dock personnel.
www.ritehite.com; 800-456-0600