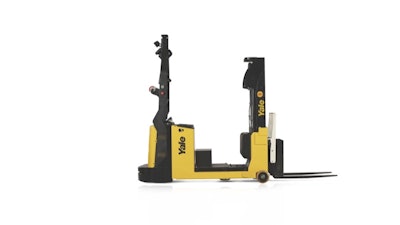 Yale Materials Handling Corporation (Greenville, NC) has introduced the latest innovation in its robotic lift truck lineup. The Yale MC10-15 Driven by Balyo is a counterbalanced stacker model capable of not only point-to-point horizontal transportation, but vertical movement, able to autonomously retrieve or deposit pallets from elevated spaces.
This vertical capability offers the versatility to accomplish a variety of warehouse tasks using a single robotic lift truck, including easy transfer of pallets from floor-level staging areas to conveyor lines, loading and unloading in cross-docking applications and stacking on elevated storage racks. The solution offers additional flexibility by switching from automatic to manual mode at the touch of a button or move of the tiller, providing additional capacity to handle unplanned challenges or fluctuating demand.
The counterbalanced stacker model uses infrastructure-free navigation technology, and does not require installation of any extra infrastructure like wire, magnets or tape. This offers easy route adjustment to changing layouts and faster startup at reduced cost compared to traditional automated guided vehicles.