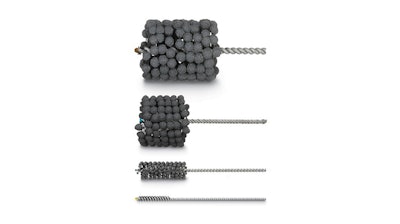 Osborn (Richmond, VA) has expanded its line of ATB Novoflex Honing Tools with additional abrasive grain sizes, abrasive types and diameters. The expanded offering now includes 185 new items and a total standard offering of 271 items. All standard items are delivered in one week or less.

Osborn's standard offering now includes 320-grit silicon carbide (SC) and 320-grit aluminum oxide (AO) tools, as well as additional diameters and lengths across 120-, 180- and 240- SC grit sizes. Osborn also offers special orders in two weeks for any grit size 60, 120, 180, 240, 320, 400 or 800 across abrasive types SC, AO, boron carbide (BC) and zirconia alumina mixes.

Available for hole diameters ranging from 0.196" to 8.000", Osborn's small diameter ATB Novoflex Tools are designed with round, abrasive silicon carbide beads fastened to the end of flexible nylon filaments providing an "edge break" not possible with conventional honing stones. These self-centering tools conform to the bore surface resulting in a consistent, even surface finish over the life of the tool. In addition, the long brush length is ideal for reaching into holes and crevices where other brushes cannot.
Typical applications of the Novoflex tools include honing, creating cross-hatched surface pattern for oil retention, cylinder port area deburring and eliminating inside flashing in smaller applications such as brake cylinders, hydraulics, and valve guides.
www.osborn.com, 765-965-5333