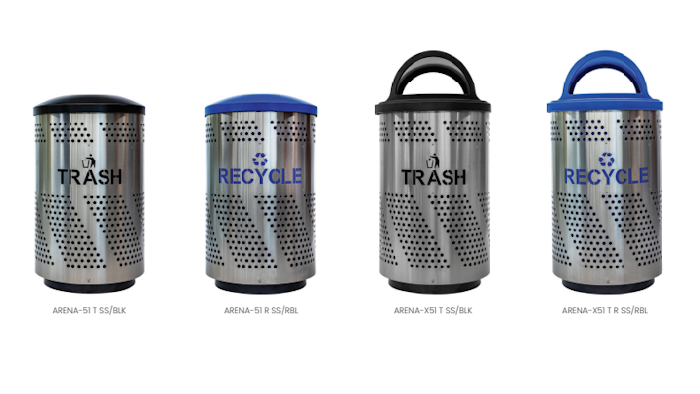 The new Arena Series from Ex-Cell Kaiser (Franklin Park, IL) is now available. The flashy, fifty-one-gallon receptacles offer large capacity and limitless customization: tailor-made for lively facilities with a bold identity.
The Arena Series units feature a unique, diagonal perforated pattern punched into the body with the option of a satin stainless steel finish or one of Ex-Cell's durable TGIC powder-coated finishes. Matching fifty-one-gallon, leak-proof rigid plastic liners accompany each unit.
All units in the Arena Series are available with the option of standard laser cut graphics, custom logo/design graphics, or no graphics at all. Behind the (optional) graphics sits a colored panel, meant to enhance the visibility of the artwork. With the choice of a standard or custom-colored panel, it is truly possible to create a one-of-a-kind receptacle.
Like all Ex-Cell Kaiser products, the Arena Series is manufactured entirely in the USA with over 30% recycled materials and is completely post-consumer recyclable.