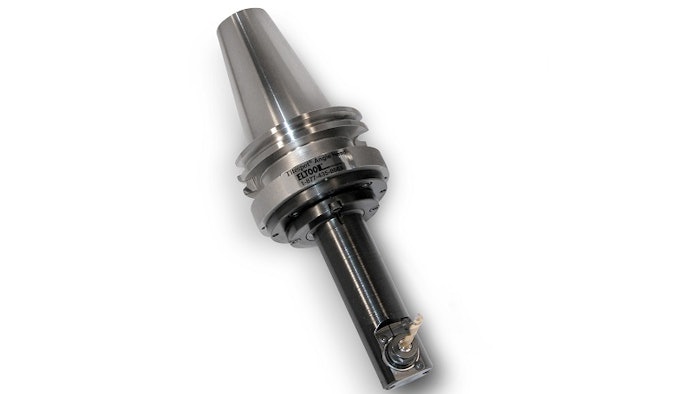 New Titespot right angle heads from ELTOOL Corporation (Cincinnati, OH) eliminate secondary operations and improve accuracy on right angle machining operations. The tools utilize a high pressure coolant system to drive a positive displacement ball piston motor. Machine spindle rotation is not required, allowing compact head designs not previously available. Specifically:
The angle heads can machine radially in cavities as small as 5/8" in diameter.
They are fully indexible on C-axis machines, eliminating the need for multiple heads and setups.
The angle heads feature hardened miter gears for efficient power transfer and durability.
Through-the-spindle or external coolant delivery models are available.
Three standard head sizes in two lengths and all popular shank styles are offered.
The tools are capable of speeds up to 13,000 rpm and output up to 1.5 horsepower. They are also useful as live tooling on lathes, as a spindle "speeder" and as a spindle on a dedicated machine. Applications include milling oil grooves in bushings, drilling radial ports in engine heads and bleeder holes in door closers.
www.eltool.com; 877-435-8665