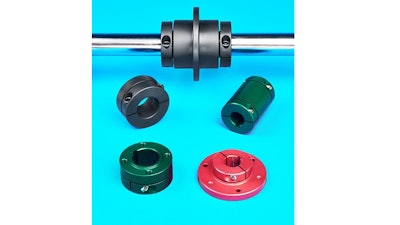 Stafford Manufacturing Corp. (Wilmington, MA) has introduced a full line of shaft collars, mounting collars and sleeve couplings that provide highly accurate working surfaces and mar-free clamping. Stafford Accu-Clamp Shaft Collars feature:
An integral clamp on one side while leaving the other flat and perpendicular within 0.001" TIR to permit mounting next to precision bearings, sprockets, and gears.
For mounting components, Accu-Mount and Accu-Flange collars have a centering hub with predrilled and tapped holes on their flat side and flange, respectively.
Aluminum, steel, and stainless steel construction, in 0.5" to 2" I.D. sizes, providing strong, mar-free clamping power.
www.staffordmfg.com; 800-695-5551