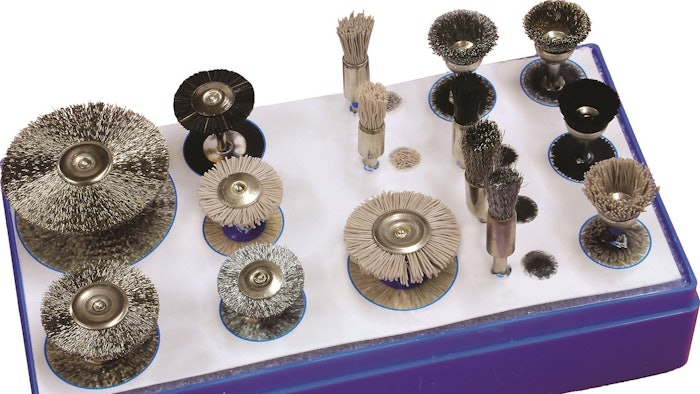 PFERD (Milwaukee, WI) miniature brushes for cleaning and light deburring provide highly repeatable deburring and surface-conditioning results on a variety of materials, from hard alloys to soft aluminum. The lineup of wheel, cup and end configurations includes stem-mounted miniature brushes that are ideally suited for the precision applications required in many industries, including electronics, medical, aerospace and jewelry. Specifically:
The brushes are available with a wide selection of filaments, including: carbon steel wire, stainless steel (INOX), brass wire, aluminum oxide abrasive filament and a variety of soft or stiff natural bristles.
All the stem-mounted miniature brushes are mounted on 1/8-in. stems, and are recommended for use with variable speed die grinders.
Wheel brushes come in diameters up to 1-1/2 in., cup in 9/16 in. diameter and end configuration to 5/16 in. diameter.
The innovative M-BRAD, available as an aluminum oxide filament, is a 6.12 nylon microfilament that evenly encapsulates various abrasive grit particles on the surface as well as throughout the nylon filament. The flexibility of strands makes it uniquely effective when deburring complex parts.
The effective cleaning action of these brushes removes sharp cross-hole burrs, metal sliver residues and sharp corners that result from the drilling of close-tolerance hard metallic and non-metallic parts.
www.pferdusa.com; 800-342-9015