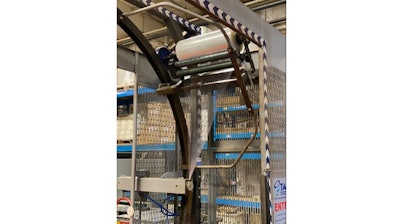 TAB Wrap Tornado
TAB Wrapper Tornado (Reading, PA) introduced the TWT-2080 Standard stretch wrap from orbital wrapper manufacturer TAB Industries, LLC. It delivers the load containment strength of an 80-gauge stretch wrap in the thickness of a 65-gauge stretch wrap resulting in a tight, secure wrap around palletized loads using less plastic film than thicker grades require.
Featuring a high force-to-load ratio, the TWT-2080 Standard cast stretch wrap resists punctures and tears during both application and transport yet provides high clarity for reading of labels and bar codes beneath.
The TWT-2080 Standard stretch wrap quietly unwinds from the roll and delivers a one-sided cling to help it stay in place without sticking to stacked or adjacent palletized loads.