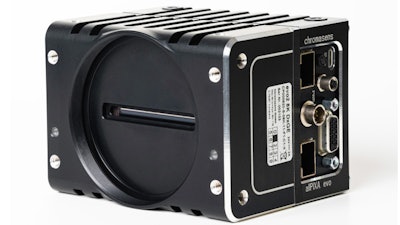 Chromasens GmbH
Chromasens (KONSTANZ, GERMANY) has launched its allPIXA evo 8K line scan camera integrating the Dual 10 GigE interface. The GeniCam/GenCP compatible camera includes features supporting challenging color and mono line-scan vision tasks.
The dual 10 GigE Vision standard makes it cost-effective to deploy the allPIXA evo 8K camera and achieve high speeds at a low system cost. It is compatible with commercial off-the-shelf components from the 10 GigE environment. Depending on requirements, integrators can choose between a single 10 GigE configuration for speeds up to 48kHz, a dual 10 GigE setup for speeds up to 90 kHz or connecting the camera to two PCs to split the processing for higher speeds.
In printing applications, the allPIXA evo 8K is capable of detecting defects in packaging and other print materials at speeds up to 11 meters per second with a one meter field-of-view, reducing waste, improving quality and ensuring superior color accuracy. Chromasens is offering a bundled solution for the printing industry featuring the allPIXA evo 8K and Corona II LED illumination in dark field mode, along with a 50mm lens, adaptors and SDK to help customers build an inspection system.
When used in the inspection of electrical vehicle batteries, the camera will recognize defects at each process step in manufacturing, and has the robust engineering needed in a harsh environment. Chromasens recommends bundling the allPIXA evo 8K with multiple Corona illumination sources to detect the smallest of imperfections, and a 60mm lens. At 30µm/px resolution the system can inspect EV batteries at 2.6 meters per second.
In addition, the allPIXA evo 8K is ideal for the inspection of PCBs, wafers, and food, and in a variety of high-speed surface and web applications. Features include:
A 16-line, 8K pixel resolution CMOS color sensor.
Camera calibration and 4-channel color profiling.
Smart encoder and trigger functions.
Flash features for multiple light conditions in one pass.
Multi-camera synchronization.
Float Binning to assure quality in color imaging.
An intuitive graphical tool and an SDK for control and image capture in Microsoft® Windows® and Linux platforms.