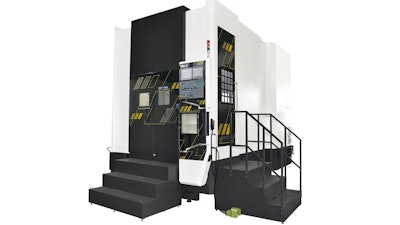 Absolute Machine Tools
Absolute Machine Tools (Lorain, OH)  has added the You Ji VMT Vertical Mill/Turn Center Series to its extensive line of large Vertical Turning Lathes by You Ji (Kaohsiung City, Taiwan).
Combining vertical and horizontal 5-face milling with vertical turning capabilities, the You Ji VMT features include:
5-sided or 4+1-axis milling and turning of medium-sized workpieces in a single setup.

Standard turning diameter and maximum turning height of 39.4" (1000 mm).

The 30-hp double-wound Fanuc P Series main spindle motor that delivers more torque at a lower RPM than a 50-hp single-wound motor.

Powered by a 2-speed ZF planetary gearbox spindle drive.

The 20-hp 50 taper milling spindle that produces high torque.
The vertical column and base are made from heavily ribbed Meehanite castings that minimize thermal distortion and dampen vibration. Smooth operation is virtually guaranteed complements of enclosed X-, Y- and Z-axis box guideways featuring hand-scraped mating surfaces, Turcite-B coatings and forced lubrication.
The VMT's design eliminates belts and gears in all three axes instead relying on servo motors to drive large 2"-diameter Class-3 precision ballscrews during operation. A fixed turning spindle and 3-axis moving column provide optimal chip removal and simplified operation.
The You Ji VMT-1000+Y features a large 29.5" (750mm) Y-axis travel.