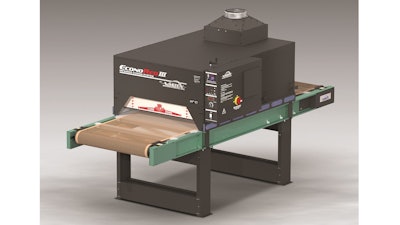 Vastex Industrial
Vastex Industrial (Bethlehem, PA) introduced its EconoRed ER-III-30 high-capacity oven to cure composites, thermoset plastics, adhesives, epoxies and related materials at high rates, in a smaller footprint and at lower cost than comparable ovens.
Features include:
Three 24-inch wide, 3,600-watt infrared heaters with closely spaced coils that provide high-density, medium-wavelength infrared heat for maximum cure speed without cold spots or under-curing.
An Infrared Focusing System that allows heater-to-conveyor height adjustments from 2 to 7 inches as standard, with greater clearances available that allows the addition of modular heating chambers and conveyor belt extensions as production needs increase.
A top-mounted exhaust system that draws in filtered air and cools the outer skin.
A 388 CFM (11 m

3

/min) exhaust system that evacuates moisture and fumes from the heating chamber.

A digital PID temperature controller accurate to +/-1°F (+/-0.5°C).
A control box that can be positioned on the right (standard) or left side of the enclosure to suit plant layouts.
A 30 in. x 105 in. Teflon

-coated fiberglass belt equipped with a low-friction belt aligner and belt speed controls to set dwell times from 35 seconds up to four minutes.
Optional stainless steel mesh belts satisfy high-heat and/or sanitary applications.
Vastex Industrial also manufactures the EconoRed ER-III-54 with a 54-inch wide conveyor belt and 13 other models of tunnel and cabinet ovens for pilot testing up to high-capacity production.