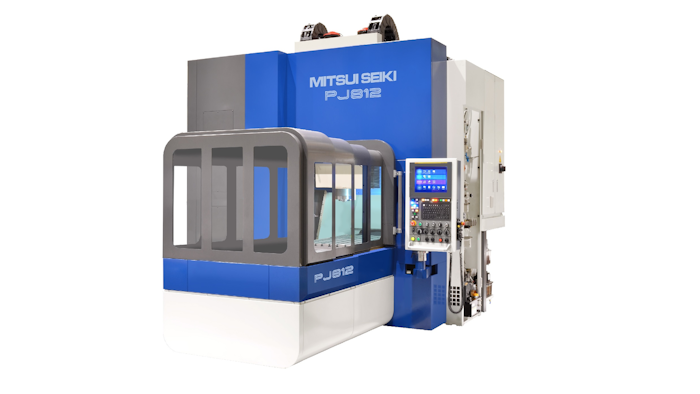 Mitsui Seiki
Mitsui Seiki (Franklin Lakes, NJ) launched the "PJ812" CNC vertical machining center. The "J" represents "Jig," which is ideal to machine critical medical, optical, electric vehicle, mold and die and aerospace parts.
The PJ812 offers:
travels X-1200mm, Y-800mm, Z-500mm.

a max work size of 1200mm x 800mm.

a table load that accommodates 1500kg.

positioning accuracy and repeatability of +/- 1µm.

a thermal compensation system that employs sensors on the machine faceplate and inside the spindle.
reduction of Z-axis thermal growth and deflection by 30%.
cooling systems.
ball screw cores.
Mechanical design features include:
hardened and ground tool steel box slideways.

contact elements that enhance acceleration, reduce stick-slip, and allow for feed accuracy of 0.1 µm.
Another proprietary engineering detail drastically improves the static rigidity of the Z-axis to more than six times that of conventional Z-axis arrangements.
This machine allows for more complete machining of precision components including precision boring, milling, drilling and tapping. Machining center technology and jig borer precision in one machine.