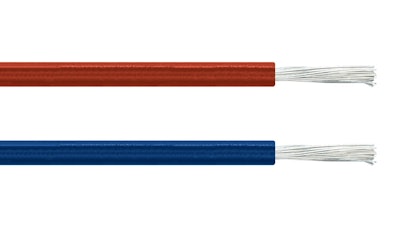 LAPP
LAPP (Florham Park, NJ) introduced the ÖLFLEX HEAT 260 SC heat-resistant single-core industrial cable for applications subject to extreme temperatures.
The ÖLFLEX HEAT 260 SC cable features polytetrafluoroethylene (PTFE) insulation to provide resistance to:
Acids
Alkalis
Solvents
Oils
Other chemicals
UV exposure
This construction allows ÖLFLEX HEAT 260 SC to resist cracks during frequent ambient temperature fluctuations while exhibiting a wide temperature range of -190°C to +260°C, with a UL/CSA rating of up to 200°C.
The cable also maintains high elasticity and tensile strength, with a minimum bending radius of 10x OD and a fixed installation bending radius of 4x OD. Flame retardance ratings include IEC and EN 60332-1-2, UL Horizontal Flame Test and CSA FT1.
The silver-plated copper-stranded conductors come in 7-, 19- or 37-wire AWG sizes.
ÖLFLEX® Heat 260 SC single-core cables are well-suited for space and weight-constrained applications in:
Mining

Chemicals

Refineries

Metal fabrication