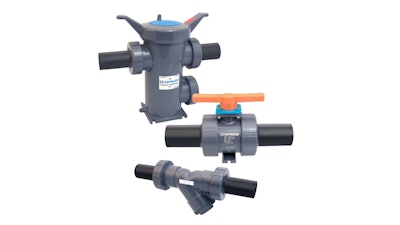 Hayward Flow Control
Hayward Flow Control (Clemmons, NC) announced the addition of HDPE (high density polyethylene) union x plain end transition fittings to its range of industry leading thermoplastic true union product lines.
This includes:
Hayward ball valves
Ball check valves
Y-check valves
Y-strainers
Basket strainers
Filter vessels
The addition of the HDPE end connections allows Hayward products to be used with HDPE fluid handling systems.
The HDPE transition end connection fittings are plain end long spigot design for use with butt weld and electrofusion systems.
The transition fittings are available in SDR 9 & 11 in sizes 1/2" - 4" and SDR 17 sizes 1-1/4" to 4".
The plain end of the connection fittings complies to ASTM D3261 dimensional requirements and upon request ISO15494 for DIN/EN systems.
Other Key Features & Benefits Include:
Compatibility with select Hayward PVC, CPVC or GFPP valves, strainers, or filters only
Availability as separate kits or included with Hayward products

Allows for transition from existing HDPE systems to Hayward products

Material complies to ASTM D3350 Cell Classification PE445574C CC2, & ASTM PE4710 / ISO PE100
Typical applications or installations include but are not to limited water and wastewater, mining, landfill / environmental infrastructure, irrigation systems, aquatic and animal life support systems, aquaculture and other applications or environments where HDPE piping is used.