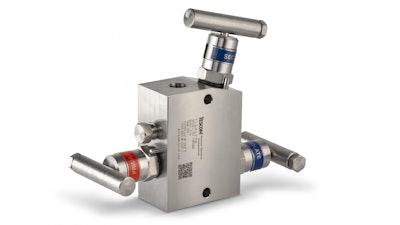 Emerson
Emerson (St. Louis, MO) has launched the TESCOM™ Anderson Greenwood Instrumentation H2 Valve Series for hydrogen applications up to 15,000 pounds-per-square-inch (psi) (103.4 megapascal (MPa)).
The new solution:
Isolates process pressure in high pressure gas applications.
Reduces the number of potential leakage points.
Reduces the risk of fuel entering the atmosphere through the valve stem.
Minimizes maintenance and downtime.
As it moves from tank to pump, hydrogen is transferred at pressures of up to 15,000 psi (103.4 MPa). To protect personnel and prevent leaks, it must be effectively controlled and isolated.
The Double Block Bleed (DBB) valve's positive double block arrangement provides two layers of positive shutoff that shield maintenance staff from high pressure during instrument maintenance.
Features include:
Hand-operated, maintenance-free design of the hand valves
Double block and bleed valves
Low operating torque
Adjustment-free seal technology
QR code for each valve
The product also ensures that no high-pressure liquid or gas is released during maintenance. The valves are compliant to the ISO 19880-3 hydrogen fueling standard.
With this new 15,000 psi (103.4 MPa) product line, Emerson offers a comprehensive portfolio of TESCOM solutions for safe and precise operation of hydrogen fueling stations.