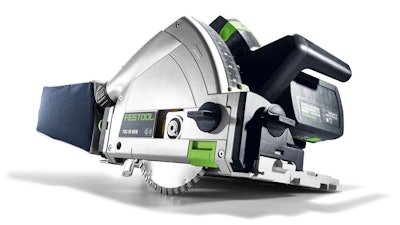 Festool
Festool's (Lebanon, IN) track saws deliver precision and repeatability of accurate cuts in a variety of materials. The company's new TSC 55 K is an advanced cordless machine that offers proprietary kickback stop technology. The new saw senses the moment of kickback during a cut, which immediately seizes the rotation of the motor, halting the blade. After the kickback stop automatically activates, the saw is ready for use again with zero downtime. Additional features include:
An array of new saw blades with thinner kerfs and new teeth geometries for improved cutting performance and longer life.
The custom-fit blades allow woodworkers to purposefully tailor cutting specifications by pairing the best-suited saw blade for the job.
The ability to be paired with a dust collection bag or extractor with Bluetooth tool-triggered operation.
festoolusa.com