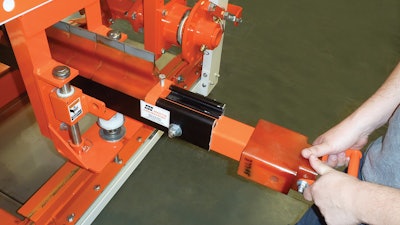 Martin Engineering
Martin Engineering (Neponset, IL) announced two rugged secondary conveyor belt cleaners, both engineered for fast and easy maintenance. The design of the DT2S and DT2H reversible cleaners reduces system downtime and labor for cleanup or service, while helping to prolong the service life of other conveyor components.
Featuring a unique split-track blade cartridge that slides in and out on a stainless steel mandrel, the cleaners can be serviced or replaced without stopping the belt when on-site safety approvals are in place.
These secondary cleaners serve applications including:
Mining

Material processing

Quarrying

Cement production

Food processing

Other bulk material handling operations.
Both products feature steel blades and tungsten carbide tips set into a flexible base, reduce material carryback and are engineered to accommodate reversing conveyors to avoid damage to the belt or splicing.
The DT2H Reversing Cleaner XHD is suited for heavy material loads on belts ranging from 18 to 96 in. wide that operate at speeds up to 1200 fpm. Its blades feature a negative rake angle of less than 90 degrees.
The Martin DT2S reversing cleaner can be installed on belts ranging from 18 to 96 in. wide. The DT2S is designed for a lower maximum belt speed of 900 fpm on belts with vulcanized splices. Its slim frame allows it to fit in spaces as narrow as 7 in.