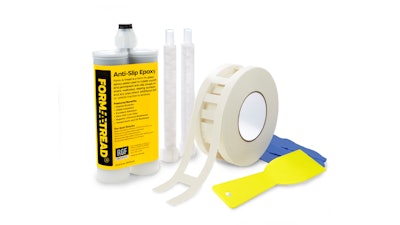 Form-A-Tread
Form-A-Tread (Phoenixville, PA) announced a new category of durable high-tech epoxy paste, called Form-A-Tread Original. The product ensures stair tread footing and visibility for years without re-application.
Form-a-Tread's durable epoxy paste consists of 100% solids that can last for years in high traffic areas, including warehouse and storage facilities. The patented product provides a strong bond to a range of stair tread surfaces, with embedded aggregate to increase traction.
It can be used indoors and outdoors and exposed to:
Chemicals
Direct sunlight
Harsh weather
Temperature extremes
Form-A-Tread's kit includes:
400 ml cartridge of material that can produce 25 to 40 linear feet of one-inch-wide tread.
Self-mixing dispensing nozzle and hand tool to spread the material to the correct width and thickness
Stencil system so the one-inch-wide tread lines remain clean, neat and parallel.
In addition to straight line treads, instructions such as "Exit Here" or a corporate logo can be applied using the material and a stencil.
The 100% epoxy tread line does not shrink during cure.
The product can be applied on sloped and irregular surfaces. It adheres to a wide variety of porous and non-porous surfaces without any priming required.