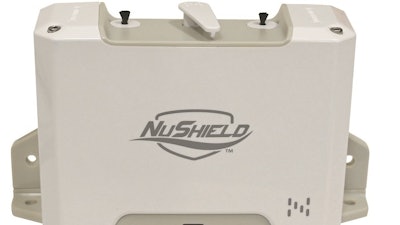 Nu-Calgon (St. Louis, MO) has launched two new NuShield commercial air ionization systems that feature UL 2998 zero ozone emissions certification. NuShield products are the most advanced air ionizers utilizing needlepoint bipolar ionization technology. The improved design of these air ionization systems includes features like daily self-cleaning, more robust construction and heavy-duty wiring (inside and out).
NuShield products work to treat the air in any commercial space. They improve indoor air quality by reducing certain bacteria and viruses, particles, smoke and odors in the air. They also reduce certain VOCs, pollutants and airborne gases. All models feature a patented self-cleaning design to ensure peak performance for the life of the system with no maintenance or replacement parts. All NuShield models also include patented multi-voltage input, allowing easy connecting from 24VAC up to 240VAC with no impact to ion output or performance.
Nu-Calgon offers the NuShield-CI and NuShield-CX for commercial systems up to 12 tons. The NuShield-CI is a slim compact design for easy internally mounted installations, while the NuShield-CX offers a solid robust build for installing externally.