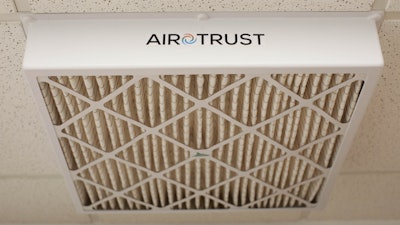 AIROTRUST LLC (Livonia, MI), a division of Storch Products Company, Inc., has developed an efficient and affordable line of air filter housing that magnetically attach to standard 2 foot by 2 foot ceiling tile grids, an industry standard in many commercial and office buildings. This product can help companies comfortably welcome employees back to the office in the age of COVID-19 with a safer office environment designed to limit the number of foreign air particles that can lead to viruses and other issues while being used in conjunction with other PPE. Specifically:
An AIROTRUST 2X2 housing unit, which serves as a vent frame, works with any standard air filter of that size. Camfil filters are recommended.

The housing is made from a durable, high impact polystyrene (HIPS) and is magnetic, allowing it to snap into place over the ceiling vent grid in seconds without the need for any tools.

The air filters sold by AIROTRUST fit snugly into the housing. AIROTRUST housing units and replaceable Camfil filters are both manufactured in the United States.