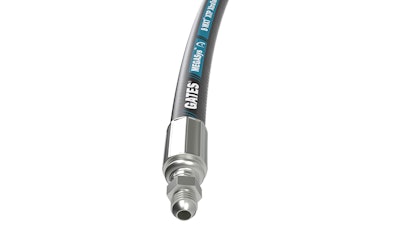 Gates (Denver, CO) introduces MEGASys MXT with XtraTuff Plus cover (MXT-XTP), a universally applicable hydraulic hose, featuring Gates' patent-pending wire-braid technology. MXT-XTP offers all the benefits of Gates' industry-leading MXT hose – compact size, light weight, flexibility and high performance – with added durability from the company's proven, industry-leading XtraTuff Plus (XTP) cover. Gates' lightweight, high-performance MXT hose is proven in the factory and field, around the world, being specified in by OEMs and used repeatedly by replacement channels. Specifically:
It's 25 percent lighter weight than conventional hoses, making it easier to lift and handle.

It's up to 49 percent more flexible, allowing faster and more ergonomic installations.

Gates has enhanced the MXT hose with the optional XTP cover, maintaining MXT hose performance while adding 25 times the abrasion resistance and enhanced ozone resistance, as validated by a rigorous 800-hour ozone exposure test. 

As a universally applicable premium hydraulic hose, MXT-XTP is suitable for the most demanding fluid power challenges.