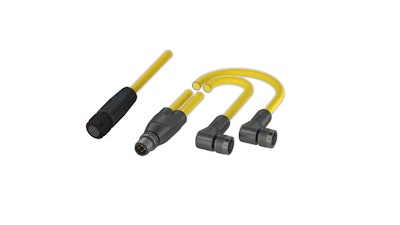 According to Balluff (Florence, KY), its newest family of TPE jacketed cables and splitters with silicone tubing withstand the harsh conditions of welding environments. They operate in increased ambient temperatures and resist thermal shocks, weld sparks and spatter.
With cables available in lengths from 0.3 m to 2.0 m and with multiple connector types, they provide the needed protection for welding applications. Splitters in this product family come in lengths from 0.3 meters to 1.0 meters. Key features include the following:
Operating temperature (fixed) -60…250ºC

Air inside silicone tube insulates the cable

Silicone tube overmolded into the head to prevent ingress

Resistant to thermal shocks

PTFE coated nut prevents debris from sticking

Cables lengths 0.3 m … 2.0 m; splitter lengths 0.3 m … 1.0 m.
www.balluff.com
; 800-543-8390