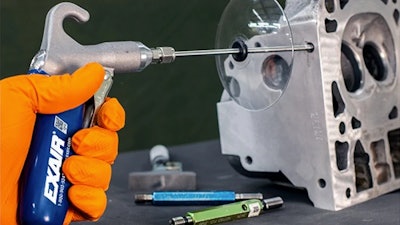 A vast selection of Safety Air Guns from EXAIR (Cincinnati, OH) offer just the amount of force you need for your individual application. These CE compliant Air Guns are durable and comfortable and easy to use. Each model uses an engineered Air Nozzle that provides superior performance by entraining large volumes of surrounding air. Safe operation is assured along with low air consumption and noise levels.
The VariBlast Precision and Compact Safety Air Guns are extremely lightweight and have a focused blast of air that provides remarkable cleaning capability. They are also designed with a variable flow trigger, so the air flow is easily adjustable and able to produce a range of different force values. The force available varies from 2 ounces to 16 ounces using a variety of 1/8 NPT engineered Air Nozzles.
There is a large selection of Soft Grip Safety Air Guns available with a force that varies from 9 ounces to 3.3 pounds. Their ergonomic design and large trigger allow them to be used for hours of continuous use without fatigue.
Powerful Heavy Duty Safety Air Guns deliver high force ranging from 13 ounces to 3.3 pounds. The 3/8 NPT compressed air inlet increases the compressed air flow available to the Super Air Nozzle, resulting in higher force and flow than other air guns.
There are even more Safety Air Guns available, including the Soft Grip Super Air Scraper, Back Blow Safety Air Guns and Super Blast Safety Air Guns. Check out exair.com to see all of the Safety Air Guns available. A variety of Chip Shields, Extension Pipes and Stay Set Hoses are available for use on these Air Guns as well.