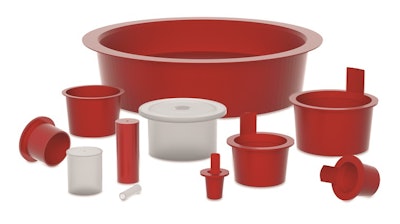 MOCAP (Park Hills, MO) has expanded its offerings of the following products:
The T Series

Tapered Plug Caps,

which are excellent dual-function closures that can be used as a

cap for hydraulic fittings, tube end cap or pipe cap or can function as a plug for threaded holes, fittings or ports.

The

FC Series

Flanged Caps,

designed to protect threads, components or fittings, with many new diameters and extended lengths now available.

In addition, MOCAP introduces the brand-new

OP Series

Outside Pull Tapered Plugs

, which are yet another great option for customers whose application requires a snug-fit, but easy removal of the plug. This is attained with the tapered plug design and the offset pull-tab.
All MOCAP parts are available in stock for immediate shipment in box, mini-pack and micro-pack quantities. Same day shipping for orders placed on-line before 2 pm CST.
www.mocap.com, 800-633-6775